I was a little disappointed that I didn't get to see one of my favorite players during my two days at the 2010 Australian Open, but I was fortunate enough to see her sister play. Sixth-seeded Venus Williams, of the United States, took on unseeded Lucie Safarova, of the Czech Republic, in this first round match.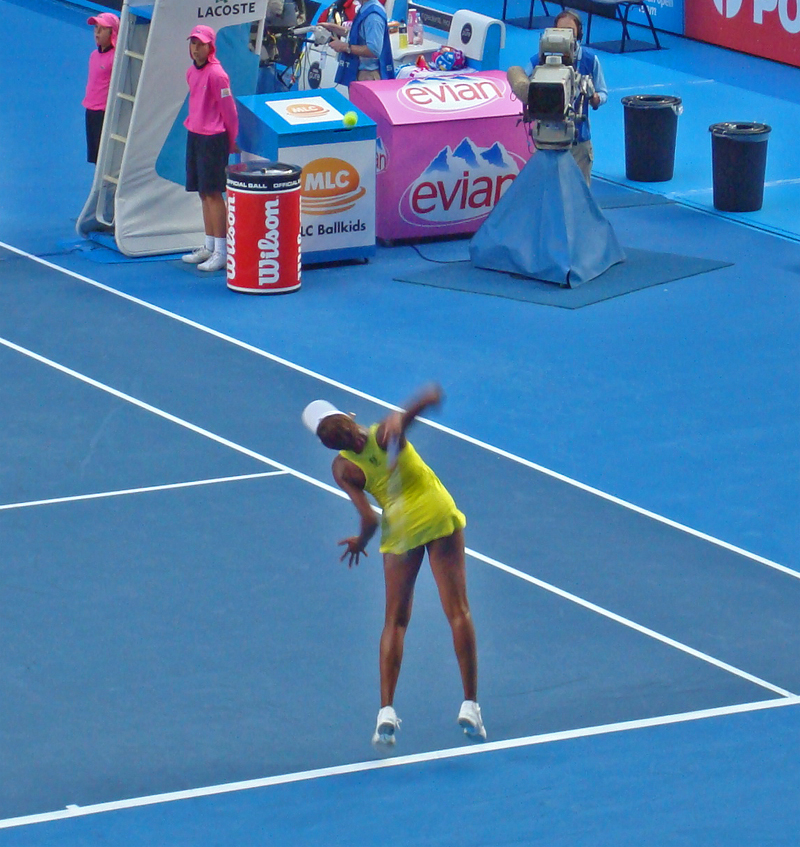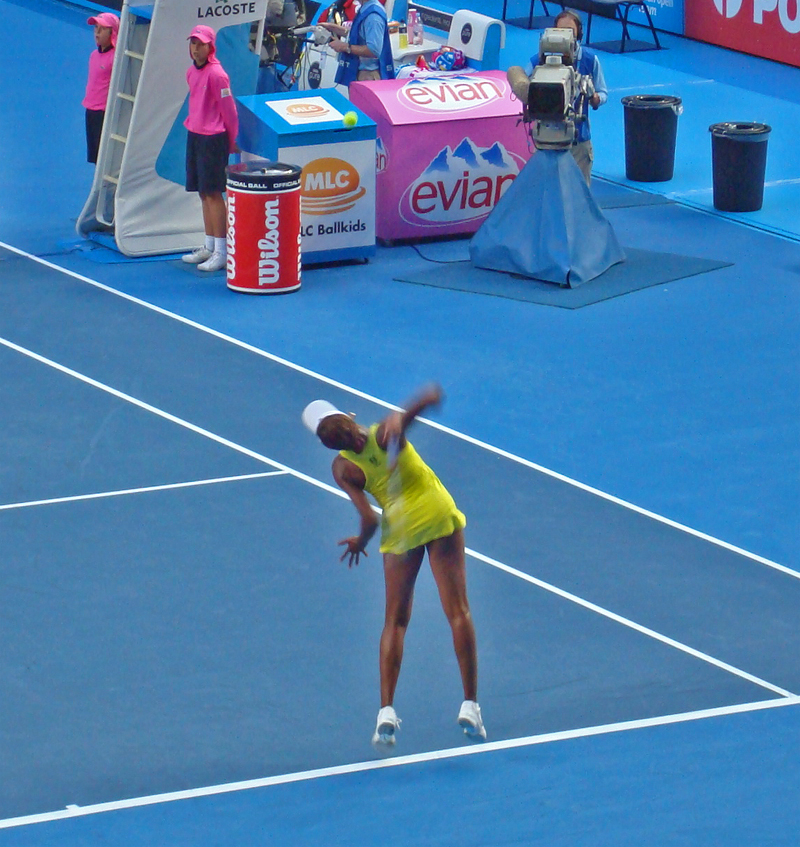 Williams won the match rather easily, defeating Safarova 6-2, 6-2, but the real story of the match—and one of the biggest stories of the Open—was Williams' outfit. She wore a very light green tank dress with brown trim and brown shorts underneath (you can see this in the photos of her above and below, as she was serving). The controversy arose because the brown shorts are almost the exact color of Williams' skin, giving the appearance that she wasn't wearing anything beneath the dress. Having seen it first hand, I can say that yes, she really was wearing the shorts, but they were difficult to see from afar, even in person. Williams didn't seem too bothered by the attention (maybe she had even hoped for it?), and she continued wearing the outfit throughout the rest of the Open.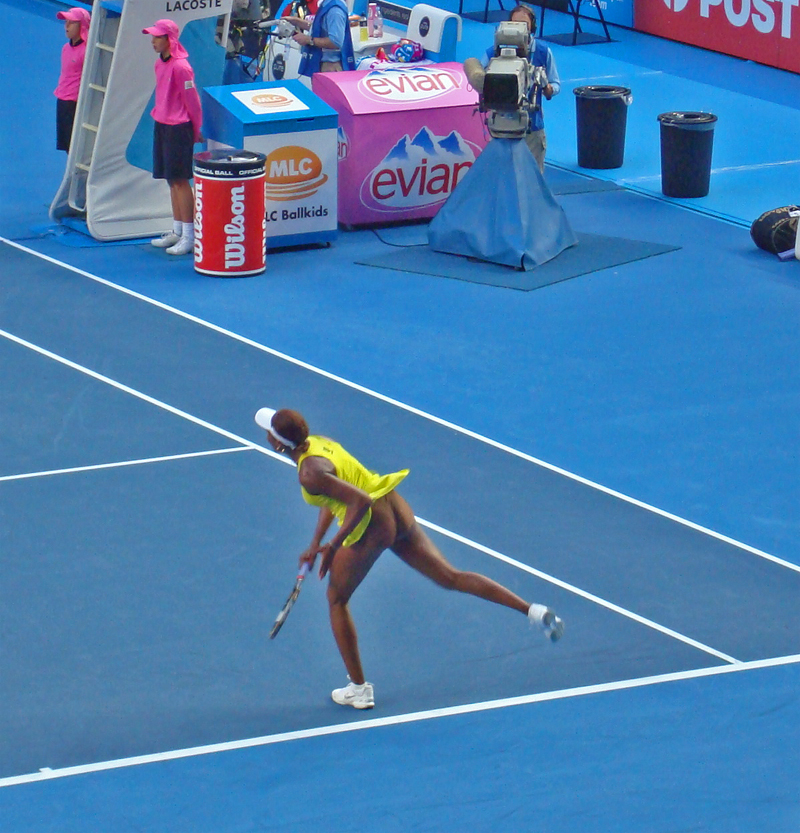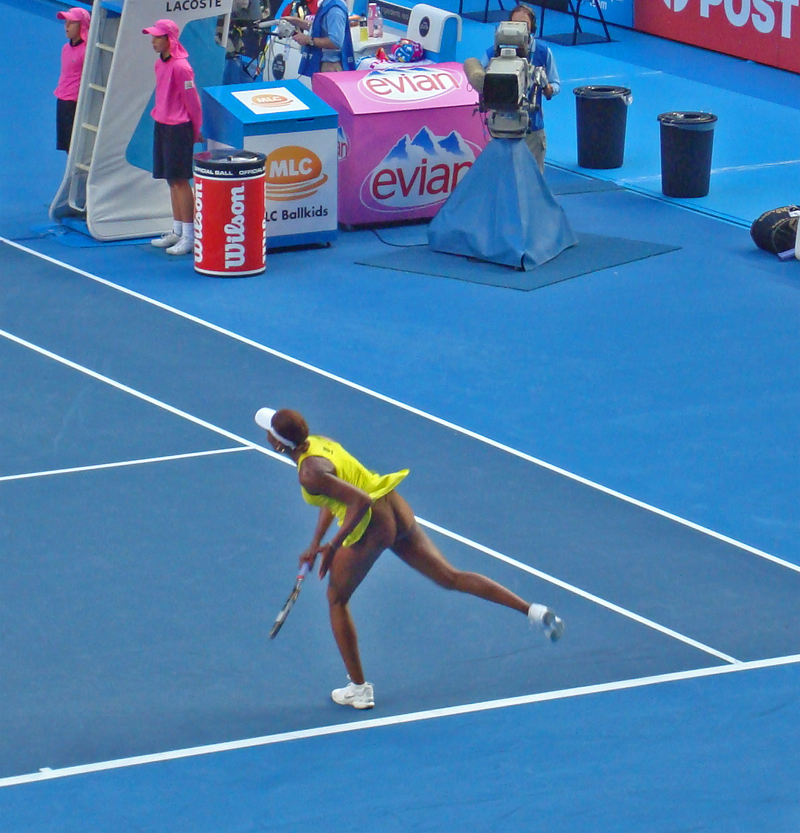 And speaking of the rest of the Open, I should tell you that Venus Williams went on to beat Sybille Bammer, of Austria, in the second round (6-2, 7-5); Casey Dellacqua, of Australia, in the third round (6-1, 7-6); and 17th seeded Francesca Schiavone, of Italy, in the fourth round (3-6, 6-2, 6-1). However, her time in the singles tournament was cut short in the quarterfinals, when she lost to 16th seeded Na Li, of China.
Fortunately, Williams had better luck in the women's doubles tournament. She and her sister, world number one Serena Williams, won the title, after defeating the top-ranked team Cara Black, of Zimbabwe, and Liezel Huber, of the United States.
I took these photos in the HiSense Arena in Melbourne, Australia in January 2010.
© Kathy Keating and An Expat's Photoblog, 2010.
All rights reserved.