During my two days at the 2010 Australian Open, I took A LOT of photos—if you've been reading by blog lately, you probably already know that. I had a few other good shots that didn't really warrant their own separate posts, so I thought I'd throw them into one final post of extra photos. Unfortunately, that makes today's post a long one—sorry!
This first photo is of the City of Melbourne's logo on the court at the HiSense Arena. The logo probably appeared in a few of my other photos, and since I'm studying logos and designs as part of the graduate work I'm doing at RMIT now, I thought I'd throw it in. I'm not sure what exactly it represents, although I have seen it associated with a City of Literature campaign, and that would make sense, as it looks bookish. However, I think this is two or three logos back in the city's history; apparently, they haven't gotten around to changing everything to the new, ugly "M" yet.
The photo above is an Australian Open entertainer I bumped into (almost literally) while I was walking around Melbourne Park—the area between the HiSense and Rod Laver arenas. This area had lots of sponsor booths, souvenir shops and fun stalls to give you a break between matches. This guy was "ball walking" (I've no idea what the technical term for this really is) near the autograph booth, when I stumbled into him.
On the first day of the Open, I also saw fourth seeded Juan Martin Del Potro (above), of Argentina, play unseeded Michael Russell, of the United States. Del Potro won the match 6-4, 6-4, 3-6, 6-2; but I missed a good chunk of it, so I didn't get many good photos.
I saw a postponed match between Jarkko Nieminen, of Finland, and Australian Nick Lindahl (pictured above). Their match began on the first day of the tournament, was delayed and ultimately rescheduled to the second day, due to the unseasonably wet weather Melbourne experienced that first day. Nieminen eventually defeated Lindahl 6-2, 7-5, 6-4.
Later on the second day of the Open, I met up with a friend, and we saw Carlos Moya (above), of Spain, take on Illya Marchenko (below), of the Ukraine. This was a fun match to watch, as my friend was a big fan of Moya's, and we were able to sit in the first row of seats, just behind Moya's seat, getting an up-close-and-personal view of him every other point. (Moya and Marchenko played on Court 7, which is a smaller outdoor court, and the seats there are remarkably close to the court itself.)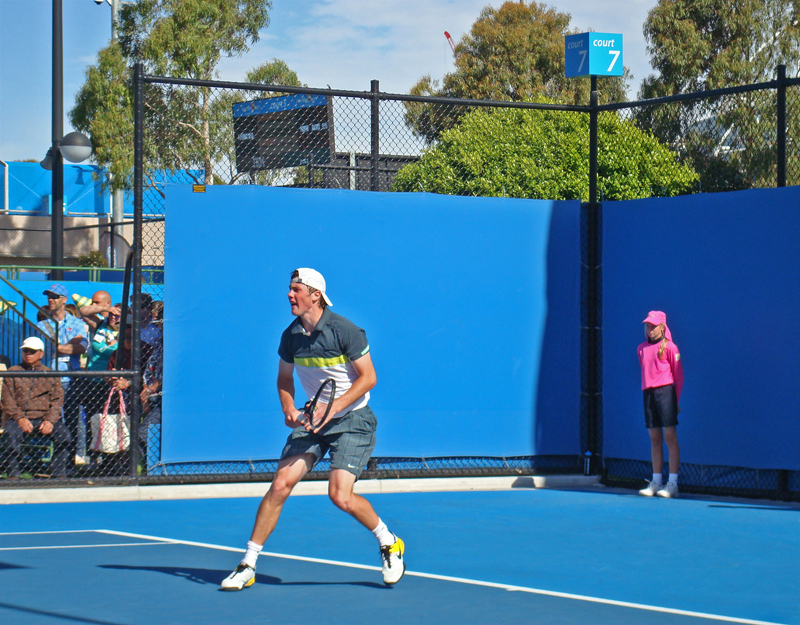 Sadly, Moya lost the match to Marchenko 6-7, 5-7, 3-6.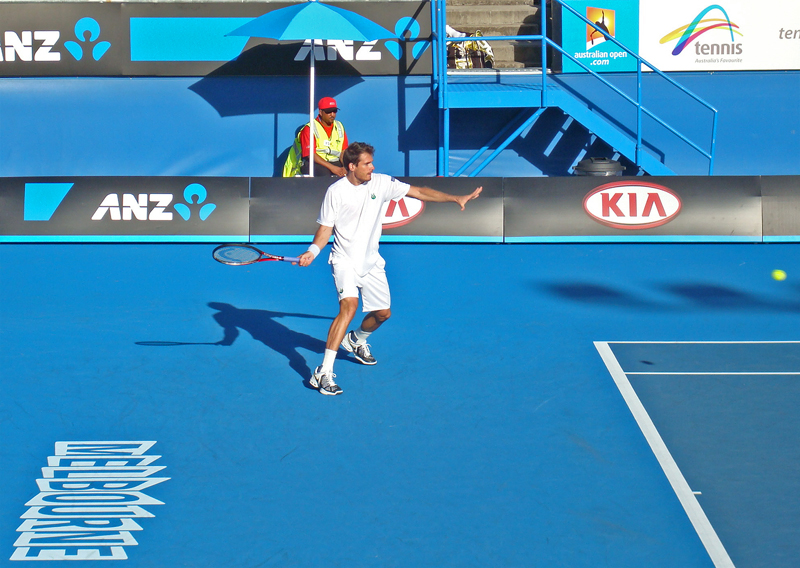 Following that match, we darted over to see someone we both liked, 18th seeded Tommy Haas (pictured above, receiving a serve), of Germany, defeat his countryman, unseeded Simon Greul, 6-7, 6-4, 6-2, 6-1. Unfortunately, Haas was later knocked out of the tournament by 10th seeded Jo-Wilfried Tsonga, of France, in a tough match during the third round.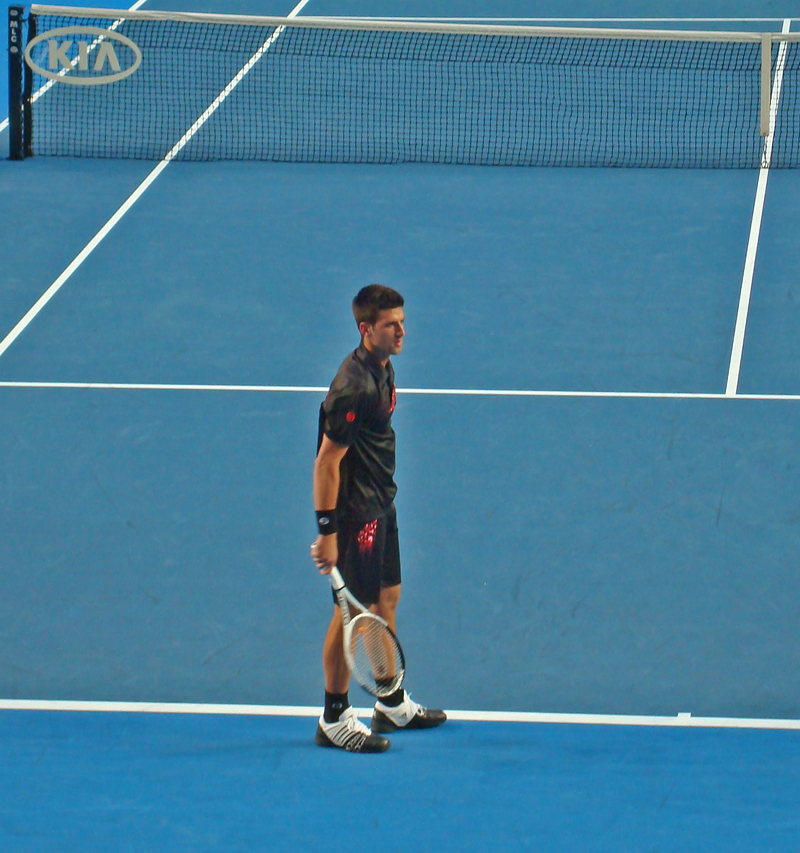 Finally, the last match I saw at the end of my nearly 24 hours spent at the Australian Open was between third seeded Novak Djokovic (above), of Serbia, and unseeded Daniel Gimeno-Traver, of Spain. I have to say, I didn't see the entire match. I was tired and called it a day at the end of the first set. Djokovic was playing well, and sure enough, he won 7-5, 6-3, 6-2. Djokovic made it through to the quarterfinals, before he was also beaten by Jo-Wilfried Tsonga.
I had a great time at the Australian Open, and I highly recommend anyone who's a fan of tennis and in Melbourne in the summer to grab a ticket and see a couple matches. I thought the tickets for the HiSense Arena were a great deal—about $50 Australian bought me a reserved seat in the arena for four or five matches and gave me access to all the outdoor courts as well!
I took these photos in the HiSense Arena and around Melbourne Park, in Melbourne, Australia in January 2010.
If, for some unbelievable reason, you want to see more of my photos, you can check them out on Flickr at www.flickr.com/photos/kdkeating. Thanks!
© Kathy Keating and An Expat's Photoblog, 2010.
All rights reserved.