Former world number one Justine Henin played unseeded Kirsten Flipkens in the first round of the 2010 Australian Open. I was thrilled to see the match between the two Belgian women, as Henin is one of my favorite players.
Despite this being only her second professional tournament since returning to tennis, Henin (pictured above, just after hitting a backhand winner) played remarkably well and displayed her amazing ability to land winners right in the corners of the court.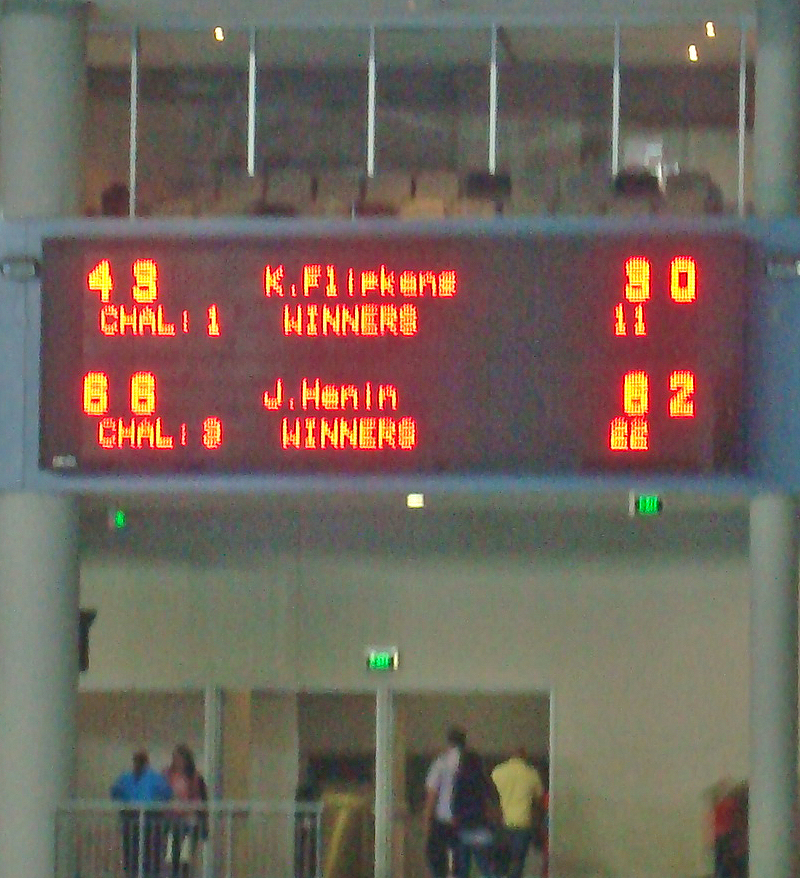 Henin won the match 6-4, 6-3 (as you can see from my blurry shot of the scoreboard, above), and she went on to defeat 5th seeded Elena Dementieva, of Russia; 27th seeded Alisa Kleybanova, of Russia; and unseeded Yanina Wickmayer, of Belgium. Henin also bested 19th seeded Nadia Petrova, of Russia, in the quarterfinals; and unseeded Jie Zheng, of China, in the semifinals. Henin played well in the finals against Serena Williams, but she couldn't prevail, losing the match to the top seeded American 6-4, 3-6, 6-2.
I took these photos in the HiSense Arena in Melbourne, Australia in January 2010.
© Kathy Keating and An Expat's Photoblog, 2010.
All rights reserved.